Golden Wave Events and Animation has an experience of many years in the tourist entertainer abroad industry. It is more and more attentive in choosing its customers and valuate the best job offers for tourist entertainers abroad to be transferred in hotel facilities abroad as hotels, resorts and villages.
Golden Wave is a legal company in the EU Community. As any other EU agency Golden Wave recognizes every legal document necessary for our hotel facilities and for our tourist entertainers who want to move abroad.
Golden Wave, besides specializing in searching and training tourist entertainers, has the function of international recruitment for other jobs in hotel facilities like public relation agent, pasta cook and pizza chef.

Golden Wave also recruits pizza chefs and pasta cooks for show-cooking all over Italy.
The best young people with over 10 years experience selected and traied in professional schools are recruited in main Italian cities like Naples, Rome, Milan aand Florence.
We also recruit personable girls fluent in other languages to be employed in Front Office or Guest Relation positions.
The candidates are selected all over Europe and must have a valid passport.
Our recruiting facilities are spread
all over Europe
The selected personnel is invited to pass the procedure or training before reaching our tourist facilities. Golden Wave's selection procedure, tailored by an experienced pool, has the aim to train the staff by the means of its free stages, in which tourist entertainers are trained and proofed over every tourist entertainer activity.
Golden Wave cares about the professional training of its own entertainers and chief entertainers with meetings, refresher courses and specializing courses.
Furthermore it organizes and develops courses for innovative activities in fitness, mini-club and coaching for entertainment supervisors.
Our peculiarity is to adapt the entertainment according to the hotel facility requesting the service and to the different kinds of customers, counting on years of experience in 4- and 3-stars hotels, holiday villages, residences.
We supervise precisely the needs of our customers and every activity we propose, guaranteeing a constant job.
Our agency recruits and trains tourist entertainers for any position. Golden Wave produces any kind of entertainment for hotel facilities, from cabaret to musicals, from themed nights to organised parties.
Our programs are innovative and never standardised, our main targets are to train and create staff according to the peculiarity of every facility.
Golden Wave differentiate itself from standardised entertaining programs
Furthermore our staffs are specialised into costumes, scenography- decoration, audio and visual systems- building.
Golden Wave recruits tourist entertainers for the summer season 2017 aged between 18 and 35 to emplyed in Hotels and resorts in italy, Spain, Greece and Bulgaria.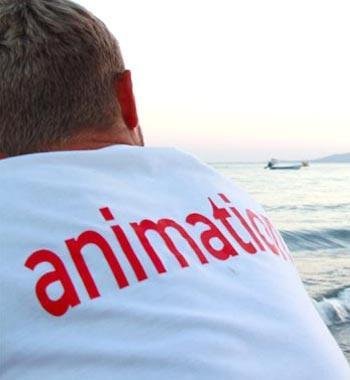 These are the position offered: chief entertainer, fitness entertainer, mini club, entertainer, dj, sound and light technicians, dancer, singer, sport entertainer, coreographer, scenographer. It is not necessary to have experience, Golden Wave also recruits novice tourist entertainers at their first experience abroad. The knowledge of foreign languages (English, German, french, Russian, Dutch, or Scandinavian languages) is a basic requirement.

Availability requested from a minimum of 3 to a maximum of 6 months.
Only for valid passport owners.
We search for single artists or group artists like magicians, fakirs, ball groups, and many others to widen our staffs in the hotel facilities.